About Triumph Middle School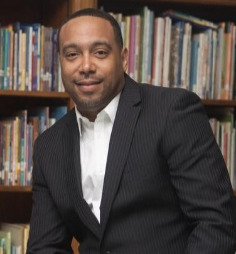 Christopher Lindsay led and managed the day-to-day operations of the district at a school level. He implemented district initiatives as executed through school-level plans. Christopher has experience as a leader in both charter and traditional public schools in urban settings.

As a turnaround leader, Christopher utilizes data to build and implement systems and processes that accelerate school improvement in the areas of academics, attendance, enrollment, and teacher retention. He leverages a research-based framework for school turnaround that has led to double-digit percentage point increases in academics and attendance.

At age 27, Christopher became the Principal of one of the first charter schools in Michigan. Christopher has nearly 20 years working as an educational leader within diverse school settings. As an instructional leader, he has served students in grades K-12. Christopher supervised the implementation of research-based practices in high-yield instructional strategies, lesson planning, and classroom management. He regularly conducts classroom walkthroughs and works with teachers to create a
collegial environment. Christopher values shared leadership, collaborative professional practice, risk-taking, and innovation to ensure high-quality curriculum and instruction are guaranteed and viable.

Also, Christopher's extensive experience with serving diverse populations will be critical to the successful implementation of school-wide Title I programs, positive behavior intervention support (PBIS) systems, and culturally contextualized pedagogy leading to an overall need-fulfilling environment. Furthermore, Christopher has acquired significant knowledge of curriculum, instruction, and assessment methods that lead to significant academic achievement. Lastly, Christopher develops leadership capacity by encouraging, empowering, praising, and providing feedback to staff.

Hailing from Detroit, MI, Christopher earned his Bachelor of Arts in History with a certificate in Business Administration from the University of Detroit Mercy. In addition, Christopher earned a Master of Arts in Curriculum and Instruction from the University of Detroit Mercy. Also, Christopher completed post-graduate work in business administration with a concentration on Strategic Leadership from Walsh College. He has both a teacher and administrator certificate.

He enjoys a myriad of hobbies including cooking, sports, reading, and writing. He has three sons, and lives in Detroit, MI.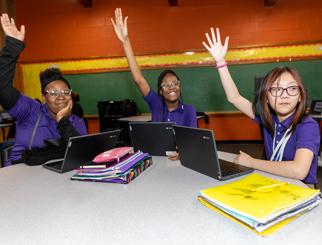 Harper Woods Triumph Middle School is "Ready to Engage, Educate, and Empower ALL STUDENTS" We are "ONE BAND, ONE SOUND."
OUR students are taught to research, synthesize, and analyze real-world problems.
OUR staff provides high-quality, student-centered instruction focused on helping each student to reach his or her potential. Learning is supported with one-to-one technology for every Harper Woods Triumph Middle School student. Honors courses are offered in ELA and Math.
International Baccalaureate Middle Years Program (MYP)
Harper Woods Middle School is a Candidate School* for the Middle Years Program. This school is pursuing authorization as an IB World School. These are schools that share a common philosophy—a commitment to high quality, challenging, international education that Harper Woods Middle School believes is important for our students. *Only schools authorized by the IB Organization can offer any of its four academic programmes: the Primary Years Programme (PYP), the Middle Years Programme (MYP), the Diploma Programme, or the Career-related Programme (CP). Candidate status gives no guarantee that authorization will be granted. For further information about the IB and its programmes, visit (ibo.org)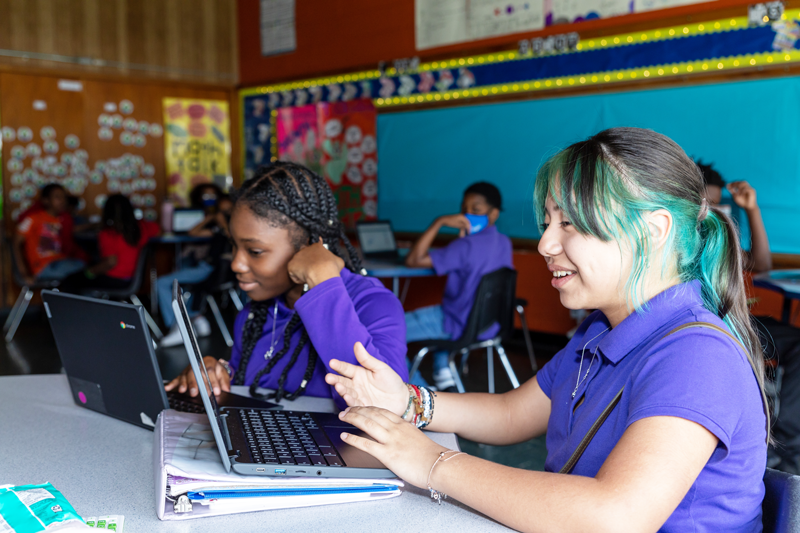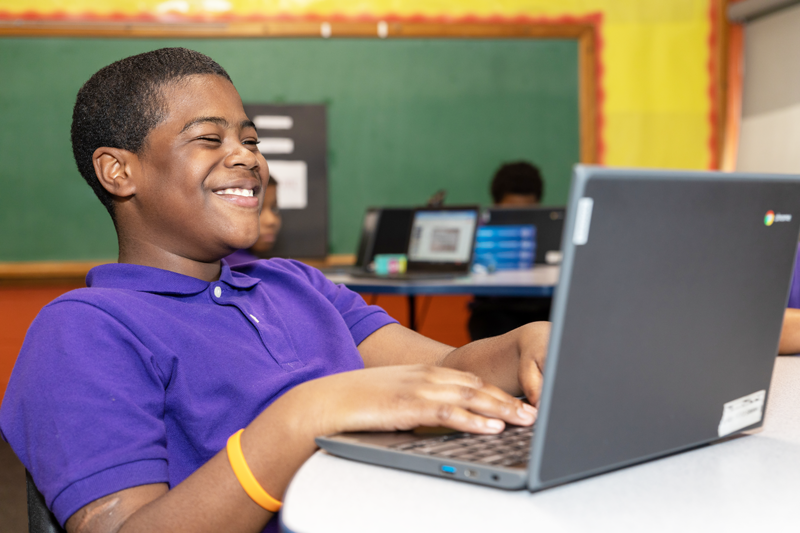 Students earn High School credit by completing the following courses...
Algebra 1
Spanish 1
Earth Science
Honors courses are offered in ELA, Math, Science, and Social Studies.
META 24 Available As Well.
HWTMS has a wide variety of extra curriculum opportunities
Students can participate in several after-school activities:
Future Think - STEM Programs
National Juniors Horners Society
Student Council
Character Development Programs - Journey to Success
Sports: football, basketball, volleyball, wrestling, track, and cheerleading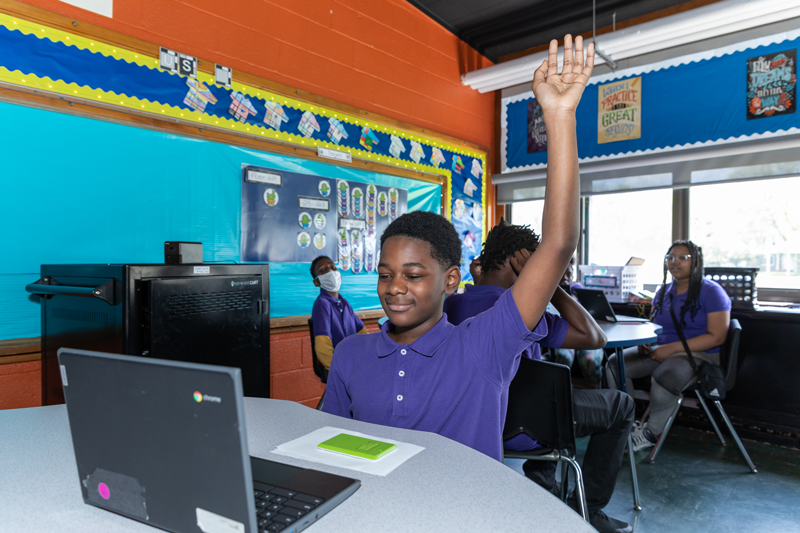 Partnership with community organizations and business bring additional educational experiences.
Career mentoring program
Saturday school / Homework Support
Internships
Additional clubs and activities
HWTMS Fine and Performing Arts Program Includes:
Marching Band
Concert
Choir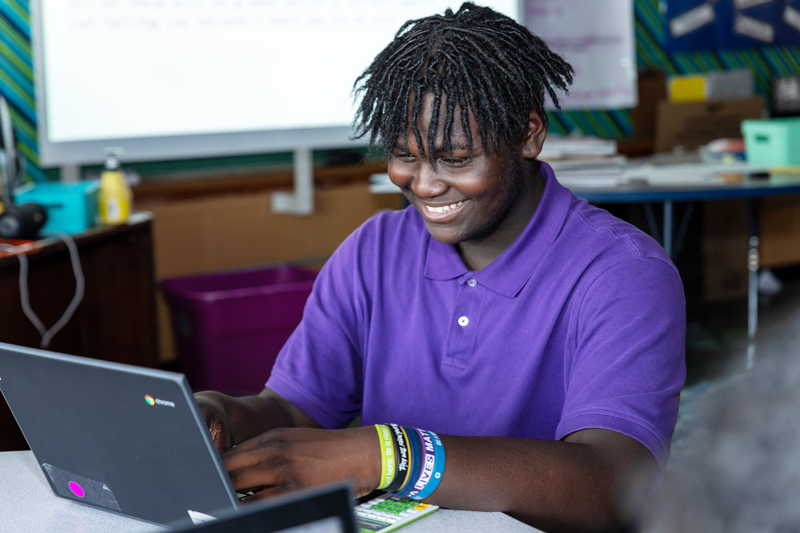 Harper Woods Triumph Middle School is "Ready to Engage, Educate, and Empower ALL Students" We are "One Band, One Sound." 
For more information, please contact the Middle School Staff at:
Phone: 586-343-1830
Fax: 586-863-5070
Parent University
Learn more about how to access WebEx and Google Classroom from their child's Chromebook.
HW Middle School Contact